Buying a Farmhouse?
Think again!
Farmhouses are high maintenance assets with a fixed lifespan. We break it down for you.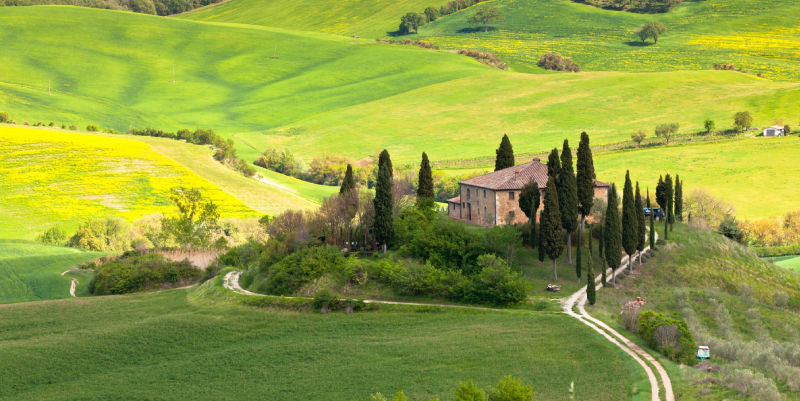 Owning a farmhouse is like owning a fancy car. You work your tail off to channel a regular pipeline of capital into a high maintenance asset, which depreciates over time. Additionally, your farmhouse is an immovable asset, which you might visit a handful of times a year. Are the dismal returns worth the hassle?
Many investors are now choosing to invest in farmlands instead, on the outskirts of Tier 1 and Tier 2 cities. This post-pandemic shift has birthed a generation of urban farmers who are building passive-income ecosystems which will reap big in the coming years.
Let's get down to the brass tacks.
Are farmhouses just a novelty?
Aside from being a status symbol of having arrived, what is a farmhouse? It is nothing more than a brick-and-mortar structure and a plot of land that serves as a dead investment for your investment portfolio. Harsh? Here are some points to ponder.
Insignificant ROI
As per a magicbricks national survey, a farmhouse can cost you anywhere from ₹15 lakhs to ₹65 crores in India. The net-worth of the investment devalues due to several factors:
Property depreciation.
Lifetime maintenance cost.
Commissions and brokerage fees at the time of sale.
Applicable Taxes depending on farmhouse size and type.
In a best case scenario, selling your dream farmhouse would fetch you 10% ROI.
Limited Passive Income
Renting or Listing your farmhouse on Airbnb is an option, but is it worth it? A tiny 650 sq ft. apartment in an urban setup can fetch you roughly ₹15,600, which is ¼th of the average income of the salaried middle-class. Compare that to a large, high maintenance farmhouse property with a meager 3-5% ROI. That's like parking your funds in a bank savings account.
Depreciating asset
Did you know that the value of a property depreciates to ⅙th of its value within 10 years? Hurts, doesn't it? That value goes down even further when the property isn't maintained. After sinking a huge amount into your remotely located farmhouse, you'll have to make sure that it stays in tip-top condition, just to keep the resale value up.
60 years is the average useful life of an independent house, which is used as a baseline for our calculation. Let's say that you shelled out ₹ 7 Cr on your swank farmhouse, the value of your depreciated property would be ₹ 1.2 Cr, after ten years. The calculation would look like this:
Depreciation Ratio = Age of Building / Useful Lifespan of Building = 10 / 60 = ⅙
Depreciated building price (Building cost * Depreciation ratio) = ₹ 7 Cr * (⅙) = ₹ 1.2 Crore
Vacant Land Tax hassles
Taxpayers often forget about vacant land taxes. Farmhouses with land that is not used for agricultural purposes fall under this tax-bracket. Land used for beautification, like lawns, swimming pools and tennis courts are considered as vacant lands by the government. The vacant land tax is 30% of the covered building area rate.For eg., if the cost of 10 sq ft. of built area is ₹100, then for the same size of vacant land the cost will be ₹30. Some states like TN, AP, Punjab and J&K levy vacant land taxes in tier 1 and tier 2 cities.
Multiple overheads
Security -Hiring reliable caretakers costs extra.
Cost of commuting -Important to consider, especially if you plan on renting it out.
Additional expenses -Skilled labour for property upkeep, daily conveniences and feeding livestock.
Investment in a farmhouse is a dream for many. But once you get past the initial euphoria and five rounds of weekend parties, what you are left with is a depreciating asset, with high maintenance costs that adds no significant value to either your personal life, society or to a smart investment portfolio.
Farmlands. An untapped goldmine
Farmland investment has been grabbing eyeballs, as a source of tax-free income in India, while contributing to a stronger nation.
Investment mogul Warren Buffet, for instance, prefers to bet on productive assets, like farmland. Bill Gates made headlines as "America's Biggest Farmer", after investing in ~2,42,000 acres of farmland.
Here are some of the benefits:
Reduced prices compared to traditional realty.
Tax-Free Passive Income source.
Capital appreciation.
Historically resilient to market fluctuation.
Inflation hedging due to demand for food and resources.
Farmhouse option for 10-20% of the land.
Let's explore farmland as an investment opportunity: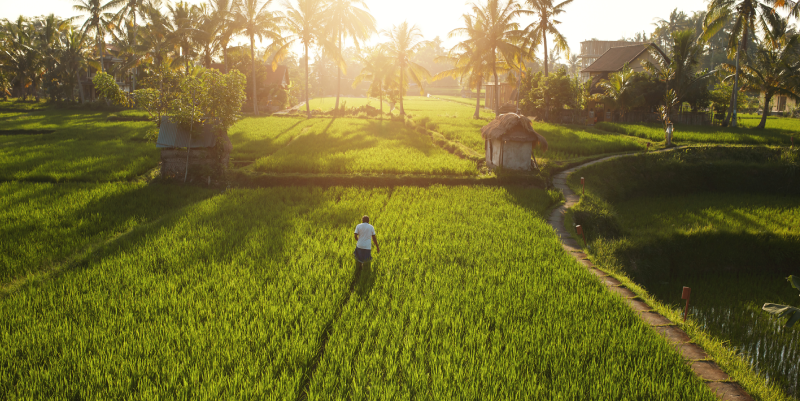 30x Land value in 2 decades
₹10,000 invested in farmlands in 1992 would be worth over ₹3 Lakh in 2022 (@12% CAGR).
Land is one physical asset that has stayed relevant for centuries. While a farmhouse building's value depreciates with time, land value has historically shown the inverse. At a capital appreciation of 12% annually, farmlands have more market stability than traditional assets like gold and real estate.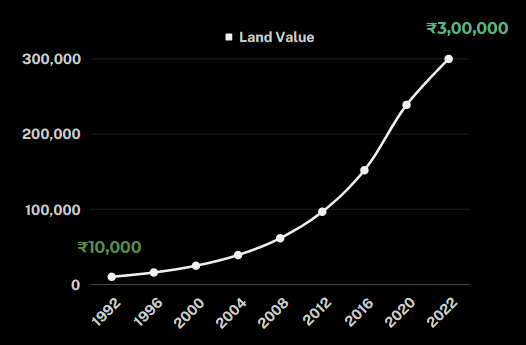 Figure : Appreciation of Land Value over 2 decades (@12% CAGR)
Tax-free returns = More savings
A chunk of the high returns offered by other investment avenues is usually eaten up in taxes. Post 30% tax-adjustment, FDs offer 3.5% returns. You're better off leaving your money sitting in the bank. The recent craze of CRE investment also takes a hit, bringing the high return rates down to 6-8%, post taxes. Tax-free farmland investment helps navigate shortcomings of current-generation investments, without eating into your profits.
Agro assets, always relevant
As long as there are mouths to feed, farmlands will always be relevant. According to a market study, the Indian organic food market is expected to grow at 26% CAGR from $177 million in 2020 to $555 million in 2026. This perennial demand for farm produce ensures that it is a good investment channel in an inflationary environment.
Fertile farmlands are running out
Invest in fertile farmland and beat the crowd. As per a UN study, 52% of the world's agricultural soil is already degraded. So, hold off on that farmhouse in a tier 1 city and invest instead in the nation's heartland. 10-20% of your farmland can still be used to build that farmhouse, depending on state laws. You stand to gain the early bird advantage of higher returns, the sooner you invest in farmlands.
Multiple Passive Income sources
Managed Agro-realty - Generate a sizable amount of money by outsourcing farming activities to experts. Backed by agronomists, these projects give you the highest yield, for different crops and/or animal husbandry systems. Taking the example of Bricshare's Eucalyptus project at Gulbarga, with a modest ₹10 Lakh entry point (per acre), you can generate over ₹8.5 Lakhs of passive income through the sale of Eucalyptus trees, in addition to a ₹21 Lakhs of capital appreciation. These are all tax-free earnings.


Figure : Tax free earnings from Bricshare's Gulbarga project

Installations of Renewable Energy - Along with farming as a primary source of income, the installation of renewable energy storage and distribution is a source of passive income with high returns with little capital investment due to government subsidies and reliefs. This may also be useful for internal use in farming activities, lowering costs and resulting in higher returns. As per Loom Solar, the ROI comes after 10-11 years with returns of around 8% per annum.
Fractional Farming - Here, investors own fractions of a large project, for as low as ₹10 Lakhs per acre. Fractional farming land is equivalent to a stock investment in a large corporation. For a low ticket value, you can benefit from the high return rates that are only offered through the economies of scale. Bricshare also has a fractional model for our Eucalyptus project at Gulbarga.
Giving back to society
Apart from a robust ROI, with farmland investment, you get to be a partner in India's agricultural success story and help to save the environment in the long run. Investing in Farmland is a far superior option to investing in bitcoin, which runs on a power-hungry blockchain and whose upkeep is harmful to the environment. Unlike other popular investments with good returns, agro realty investment is your contribution to a better future.
ROI swings the vote
TOTAL COST:
Particulars
Farmhouse
(Tier 1 city - Delhi outskirts)
Managed Farmland
(Tier 3 city - Karnataka)
Land cost (1 acre)
₹

4 Crore

₹

10 Lakhs

Development cost
₹ 2.7 Crore


(20% of Land - 9,000 sqft.) (Construction - ₹3,000/sqft.)

₹ 2.7 Lakhs


(Incl Land Acquisition, Development, Mgmt)

24x7 Caretaker
₹ 30 Lakhs


(Salary p.a - ₹ 3 Lakhs )

NA*

Electricity Cost
₹ 5 Lakhs


(₹40k-60k Yearly)

NA*

Maintenance Costs
₹ 10 Lakhs


(₹ 1 Lakh yearly, for upkeep equipment)

NA*

TOTAL COST
₹

7.2 Crores

₹

12.7 Lakhs
Note: * - Included in Development cost
TOTAL RETURNS AFTER 10 YEARS:
Particulars
Farmhouse
(Tier 1 city - Delhi outskirts)
Managed Farmland
(Tier 3 city - Karnataka)
Capital Appreciation
₹ 2.4 crores
( Depreciated Building (1.2 Cr) + Appreciated Land* (8.4 Cr) - Total Cost(7.2 Cr))
₹ 21 Lakhs


(Appreciated Land value*)

Recurring Expenses
~ ₹

45 Lakhs

NA

Yield
₹ 2-5%


(Taxable rentals)

₹ 6-10%


(Tax-free)

Taxes
₹ 50 Lakhs


(Avg. rate 10% on value)

NA*

Average ROI

10%

15-25%
Note: *
Appreciated Land Value = Projected Land value - Initial Land value
Projected @ 12% CAGR
The Final Word
It's all about your priorities. Do you want to think short-term and invest in an exorbitant luxury farmhouse, with no guarantee on returns? Or would you rather invest in fertile farmland whose low ticket value has more scope for lucrative returns, while giving you the option to build that luxury farmhouse too?
With steady population growth and increasing scarcity of fertile lands, a good, arable farm plot will be a valuable asset to hold. Agricultural land values are generally supported by the earnings generated by the asset itself. Compared to other real estate classes, debt-to-asset ratios in the farming sector remain low, and returns display decent growth potential and low volatility.
Do you want to be an agro-entrepreneur? Bricshare assists you in understanding the entire process of Managed fractional farmland investment. Visit our website to get on the ground floor of this exciting investment opportunity.
Want to know more?
Different projects have different initial investment loads. Bricshare only requires an initial investment of Rs. 36 lakhs for 3 acres, with turnkey asset management solutions
---
Pros:
A fixed and stable return in the form of passive income.
Government-backed occupation with subsidies and tax reliefs on incomes.
Cons:
Many states prohibit the ownership of Farmland to non-farmers and NRIs.
Visit our FAQs section to learn more.
View similar blogs
Deep dive into our library for smart investors. We have curated pieces to answer any questions you have.
Interested to know
more about
Bricshare?